YooSecurity Services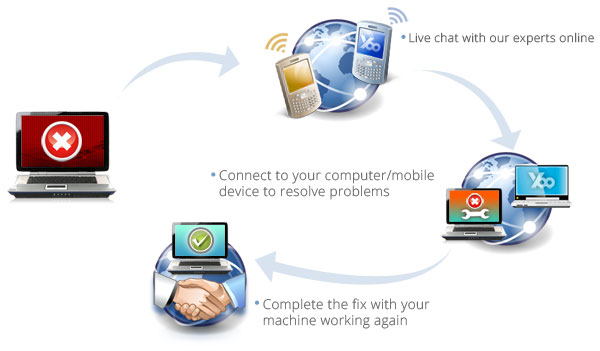 We'll fix your Windows PCs, MAC or mobile devices online via TeamViewer.
Live chat with our experts online;
With your permission, connect to your computer/mobile device to resolve your problems;
Complete the fix with your computer/mobile device working again.
Threats Removal Services
After you contact us, one of our experts accesses your computer/mobile device, fully check and then clean all threats quickly and completely. The services include:
Virus Removal
Worms
Trojan Horse
Backdoors
Alureon Trojan
Conficker virus

Spyware Removal
Spam Tools Sniffers
Spam Email

Adware Removal
Annoyances Browser Hijackers Nukers Mail bombers

Malware Removal
Rogue Antispyware
Fake Antivirus
Ransomware

Rookit Infection Removal
Keyloggers Tracking Cookies
MBR Infection
Any new threats that appear
Computer/Mobile Device Repair and Maintanance Services
Our in-house professionals will fix any computer/mobile device problems that can be fixed remotely, and provide helps to resolve any hardware issues that your computer or mobile devices are experiencing.
Computer/Mobile Device Diagnosis and Repair
Help you fully diagnostic the whole system
Fix Computer shuts down Repair Blue Screen of Death (BSOD)
Fix Network problems
Fix System failure Bugs (Including upgrade error, system failure to restore, system software error)
Office Support
Network Troubleshooting
No Boot up Repair

Registry Clean-up and Repair
Clean junk files
Fix Registry Errors
Fix system 32 error, dll errors
Registry repair/clean-up

Computer/Mobile Device Tune-up & Optimization
Uninstall unwanted programs
Fix Freezing Computers
Driver Upgrade & Repair
Speed Up Computer/Mobile Device (Fix Slow Computer/Mobile Device)

Why YooSecurity VPN Service?
Can not access to Google, YouTube, Facebook, Netflix, Instagram or Viber Messenger, etc? You can solve all the problems with YooSecurity VPN service. Features of YooSecurity VPN service with Fast Video Streaming, Fast Downloading, Safe & Anonymous Browsing, Online Gaming. YooSecurity VPN service protects your privacy online and access data or media content by unlocking the Government censorship and restrictions. Strong encryption and no-log policy with 1000+ servers in many countries.
YooSecurity offers the type of VPN services:
Android VPN
iPhone/iPad VPN
Mac VPN
Windows VPN
Streaming VPN
YooSecurity 3-Steps VPN Service
Answer questions about VPN for your PC, Mac or mobile device.
Create and activate the VPN account after the purchase is confirmed.
Step-by-step tutorial guides to set up a VPN.